From the day of January 2nd, 2010, all the way up to December 1st of 2017, Jimbo Fisher led Florida State to one of its most successful periods in program history. The Seminoles went 83-23 over that eight-season period, which saw FSU win three ACC Championships along with a National Championship in 2013. Fisher brought Florida State into the modern age of college football, and one of the biggest factors for his success in Tallahassee was his tutelage of quarterbacks. The Seminoles had three QBs drafted in the first round of the NFL Draft during the Fisher era, a major testament to teachings of the former Seminole head coach.
Now that Fisher has decided to leave for College Station, and with the Willie Taggart era almost upon us, there might be no better time to rank all the quarterbacks who started under Jimbo Fisher during his time in Tallahassee. (Note: only the play of a quarterback in a Seminole uniform will be judged. Everett Golson's time at Notre Dame, for example, will not be taken into consideration).
8. Clint Trickett
Kicking off our list is former West Virginia and Florida State quarterback Clint Trickett, who only started two games for the Seminoles back in 2011. Although he would go on to lose both starts, Trickett impressed in limited playing time, throwing for 675 yards and seven touchdowns. He eventually transferred to West Virginia after the arrival of Jameis Winston in 2013, where he played well for the Mountaineers. Trickett only ranks last on this list due to the 0-2 record as the starter, but its safe to say that if he would have been given the chance to star more, Trickett would move up higher on the list.
7. Everett Golson
Perhaps the most interesting quarterback on our list, Everett Golson began his career at Notre Dame, where he led the Fighting Irish to the National Championship game in 2012. He then missed all of 2013 due to academic issues and then transferred after the 2014 season to Florida State. He began the 2015 season as the Seminole's starter and helped lead them to a 6-0 start to the season.
However, a poor offensive performance against Georgia Tech, which was a major factor in the loss to the Yellow Jackets, resulted in Golson being pulled as the starter in favor of Sean Maguire. He would not start a game the rest of the season and refused to participate in the Chick-fil-A Bowl against Houston that January. Although he led the Seminoles to a 6-1 record and threw 11 touchdowns against 1 interception as the starting quarterback, Golson ranks fairly low on this list due to the lack of an explosive offense under his watch and being replaced halfway through the season.
6. James Blackman
Checking in at number six on this list is none other than the 'Slim Reaper' himself, James Blackman. Thrust unexpectedly into the starting role for almost all of 2017 after the injury to Deondre Francois, Blackman played admirably throughout his true freshman year, despite a poor performance from the team as a whole. The 2017 season was a rollercoaster for both the players and the fans, with so many games coming down to the final minutes of play, many of which fell on the shoulders of Blackman. With a 19 touchdowns passes and a 7-5 record as the starter, Blackman should rank higher on this list, but poor play in clutch moments (Louisville, Clemson) along with the normal growing pains associated with freshman QBs keep him lower on the card.
Do not be surprised, however, if Blackman develops into a top-tier passer during his college career. He has a fantastic deep ball and showed massive improvement down the stretch of last season. He should rank higher on this list by the end of time at FSU.
5. Sean Maguire
Coming in at number five is none other than S-Mag himself, who will go down as one of the most beloved Seminole athletes in recent memory. Starting out his career as a redshirt freshman in 2013, Maguire got his first real taste of action against Clemson as a sophomore when he took over for a suspended Jameis Winston. He played admirably against the Tigers, throwing two touchdowns and extending Florida State's legendary win streak. Maguire went on to back up Everett Golson in 2015 for the first half of the season, before taking over as the permanent starter against Syracuse, where he threw four touchdowns.
Maguire led the 'Noles to wins over NC State and Florida, before injuring his ankle against Houston in the first half. Although he would go on to throw four interceptions in the game, Maguire endeared himself to Seminole fans everywhere when he came back in the second half after the offense sputtered in his absence. The gutsy performance came at a cost, however, and Maguire spent his senior season backing up Deondre Francois after he recovered from injury.
He finished his career with a 5-2 record as the starter and threw for 16 touchdowns against 11 interceptions in his career. Although his stats are not the best among this group, the heart Maguire showed game-in and game-out, along with the spark he put in the offense back in 2015 lands him at our number five spot.
4. Deondre Francois
Despite only one season as starting quarterback (plus a game last season), Deandre Francois lands fairly high on this list and could make a case to be ranked even higher. Coming into Florida State as a highly-touted recruit, Francois saw two other blue-chip quarterbacks leave the program before the beginning of his redshirt freshman season, leaving the door open for him to claim the starting job. Francois showed up enough ability in fall camp to beat out returning starter Sean Maguire, who was coming back from an injury and never looked back. He showed just how good he was in the first game of the season against Ole Miss where, even after taking a savage beating from the Rebel 'Land Shark' defense, Francois led a gigantic comeback that resulted in a Seminole win. Although his freshman season was marred with ups and downs, the fleet-footed Orlando native led the 'Noles to a 10-3 season, which included a fantastic performance against Michigan in the Orange Bowl that resulted in an emphatic win over the Wolverines. Francois ended the season with 20 touchdown passes and 3350 yards passing, setting himself up for a massive sophomore season.
Sadly, in the massive first game against Alabama last season, Francois suffered a terrible knee injury and was ruled out for the rest season, ruining what was once a very promising year. Now going into 2018, he's in the middle of a fierce QB battle with the returning James Blackman, but if he wins out like many expect, college football fans should expect huge things from Frenchie this season. By the end of his career, he will be higher on this list.
3. Christian Ponder
The OQ (Original QB), Christian Ponder was the first starting quarterback to play under Jimbo Fisher and was easily one of his best. After getting early playing time all the way back in 2007 against Virginia Tech, Ponder was the named starting quarterback for the 'Noles as a redshirt sophomore in 2008, and he never looked back. A sneaky duel-threat he famously burned the Miami defense in his first start against the Canes, he ended up running for over 410 yards in his first season. He also finished that year with over 2000 yards passing and 14 touchdowns, a feat he would duplicate the very next season as a junior. In his first two seasons as the starter, Ponder had thrown for 29 touchdowns and over 4,000 yards, slowly becoming one of the most consistent quarterbacks in the ACC, despite battling injuries
This all led up to Fisher's first season as head coach in 2010, where "CP7' was billed as a Heisman contender throughout the preseason by the media. Although his senior season never lived up to the immense hype, Ponder helped lead the Seminoles back into the national spotlight with a 10-4 record and ACC Atlantic title, FSU's first since 2005. But perhaps most importantly to Seminole fans, his tremendous play against UF in the final regular season game of the year helped break the six-year losing streak to the Gators (who Ponder was 0-3 against).
Nagging injuries hampered a stellar career which saw the buzz-cut leader throw for 45 touchdowns along with 6872 passing yards, both of which rank ninth and sixth in school history. Ponder went on to go 12th in the NFL Draft back in 2011, and although a disappointing pro career followed, Seminole fans will forever remember the heroics and leadership the three-year starter displayed during his time in the Garnet and Gold.
2. EJ Manuel
Florida State fans will forever debate how good EJ Manuel actually was during his time in Tallahassee, and many will claim that his spot on this list should be much higher. Manuel seemingly could at any time go from playing like a Heisman-hopeful (2012 Clemson) to a below-average signal caller (2012 NC State, which was one week later). But after looking through all the starting quarterbacks to play under Jimbo Fisher, there was only one spot to place Manuel, and that was in the second spot.
Manuel came into Florida State with a ton of hype, hailing from Virginia Beach as a five-star quarterback. He arrived in Tallahassee in 2008 and redshirted during his freshman season. After the departure of Drew Weatherford and Xavier Lee, Manuel became the backup to Christian Ponder during the 2009 season and was called into action late in the year after Ponder suffered a severe elbow injury. The redshirt freshman piloted the 4-5 Seminoles to a bowl game, where he earned Gator Bowl MVP honors. Manuel then waited behind Ponder during his sophomore season, before taking over as the starter in 2011. The lofty expectations seemed to weigh on Manuel, as his performances consistently underwhelmed during the season. He ended up leading the Seminoles to a 9-4 record (9-2 as the starter) and threw for 18 touchdowns and 2,666 passing yards.
During the preseason of 2012, Manuel was called a 'Heisman contender' by the national media, and through the first several games of the season, he lived up to the billing. The Seminoles started out the season with a 5-0 record, which included a 47-37 beating of #10 Clemson, where Manuel threw for two touchdowns, ran for one, and totaled over 400 yards of offense. The game launched the senior into the thick of the Heisman conversation, and a stellar performance against USF the next week had the Seminoles riding high into the national championship discussion. Sadly, a trip to Carter-Finley Stadium the next week took away any Heisman and National Championship discussion, and the 'Noles lost to unranked NC State 16-17. A poor performance from Manuel and the rest of the offense in the second half doomed FSU, and any Heisman talk surrounding Manuel was dead.
Despite the poor play against NC State, Manuel helped the 'Noles rebound with an emphatic 51-7 over Boston College the next week. Florida State would continue their solid play throughout the rest of the season, capping off the year with an ACC Championship win over Georgia Tech and an Orange Bowl victory over NIU. Manuel finished the season with 23 touchdowns and over 3300 yards passing. In his four years at Florida State, Manuel ended up throwing for 47 touchdowns and 7741 yards, finishing his career in Tallahassee ranking fourth in both categories in the record book. While he might have not always lived up to the massive expectations set for him by Seminole fans, and while his inconsistent play frustrated many, his 24-5 record as the starter speaks for itself. Manuel was a winner, and his play during his career set the foundation for the national championship a year later.
1. Jameis Winston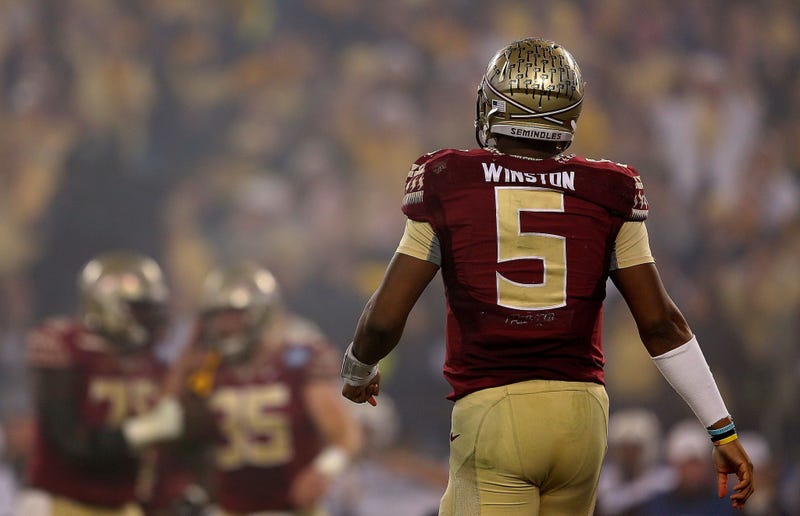 Who else could even be? Out of the quarterbacks who started a game under Jimbo Fisher, there are no others who won a National Championship, let alone a Heisman trophy. Winston, by far, is the best Seminole quarterback of the past decade and makes a solid case for being the best quarterback in Florida State.
Winston came to Tallahassee as a highly rated quarterback out of Alabama and chose the Seminoles over both the Crimson Tide and Texas. After redshirting behind EJ Manuel during the 2012 season, he won the starting job over Jake Coker and Clint Trickett, causing them both to end up transferring in the following seasons. In his first performance as starting quarterback against Pittsburgh in 2013, the freshman was nearly perfect, throwing for four touchdowns and over 350 yards, and had a near-perfect 92.8% completion percentage. His strong performances would continue in the following weeks, and he led Florida State to a 5-0 start for the second straight season. That led to what many called the clash of the decade in the ACC, between #3 Clemson and the fifth-ranked Seminoles, who a few weeks prior had beaten #25 Maryland to a tune of 63-0.
In a pre-game speech that has now become famous, Winston stated before the game: "at Florida State, if we do it then, we do it big then". The Seminoles then proceded to rout the Tigers in a historic 51-14 beatdown, the largest loss ever suffered by Clemson in Death Valley. Winston was masterful against Dabo's crew, throwing for three touchdowns and 444 yards. That launched the young freshman into the Heisman discussion, and he never looked back after. He led the Seminole to wins over both Miami and Florida, and then to the ACC Championship game, where they toppled Duke in dominating fashion. FSU then qualified for the BCS National Championship Game, and around the same time, Winston became the third Seminole quarterback to win the Heisman trophy. He then helped lead the 'Noles to a crazy-comeback victory over Auburn, helping them capture the school's third championship in their history. He finished the season with 40 touchdowns and over 4,000 yards passing, both of which were Seminole records.
Winston would return in 2014 for his redshirt sophomore season, and although he didn't exactly meet the lofty expectations of a winning a second Heisman, the future number-one pick still had a fantastic year. Despite losing two of his top three receivers, both of the main running backs from the year prior, several starting lineman, and plenty of key defensive cogs, the Seminoles still had a fantastic season in 2014. Winston led the 'Noles to their third consecutive ACC Championship over a very good Georgia Tech team, beat both Miami and Florida again, and engineered countless comeback victories throughout the season. Although Jameis was less effective during his sophomore season, throwing eighteen interceptions, which was eight more than the year previous, he was still the biggest factor in FSU's appearance in the College Football Playoff. The lack of experience from the offensive line and receiving core were major factors in the number of picks Winston threw, which were seen in the Rose Bowl against Oregon. The Ducks dominated the Seminoles after the third quarter, and Winston's last collegiate game saw him throw one interception along with a touchdown, while the rest of the offense fumbled the game away.
At the end of his second year as starting quarterback, Winston left Tallahassee to pursue a career in the NFL, where he was taken number one overall in the NFL Draft, the first Florida State player to ever be taken first. During just two years in Tallahassee, Winston threw for 65 touchdowns and 7,964 yards, which rank second and third in Florida State history. It's fairly safe to say that the third season at FSU would have seen Jameis shatter those records. So although his time in Tally (and in the NFL) was marred with controversy, Winston still stands as the best starting quarterback of the Jimbo Fisher era.
And it isn't even close.
×
I always wanted to be an NFL player, but 5'11 lineman normally don't get drafted, unless their name is Aaron Donald. Most likely I've already peaked in high school. I love all kinds of sports, but I write about FSU for Armchair, where I also attend school. Yes, Florida State is better than your favorite school in whatever sport you name (that includes water polo). Don't ever play me in Madden or 2k, otherwise, I'll put you to shame. I'm at tscheetos on Xbox, come at me. Follow me on twitter at @samtschida67 for hot football takes and other dumb tweets.