The struggle is about to get even more real for this Colorado Rockies ballclub. We aren't talking about real in the sense of actual struggles, no, we're talking about the struggles of too much talent. It brings to light tough questions and even tougher decisions.
As players Tom Murphy, Jon Gray, Trevor Story, and David Dahl begin to make the final run back to full health, the roster is going to get crowded. All four players figured as cornerstones for 2017, but all have missed significant time. Let's dive into each as they will return and what the options will be for the club going forward.
Catcher, Tom Murphy

 
Before Murphy was injured he was slated to split time with current starter Tony Wolters behind the dish. The idea was Wolters is the defensive first catcher, with Murphy being the better offensive option. The Rockies opened the season with Wolters as the everyday catcher where he took full advantage of the opportunity.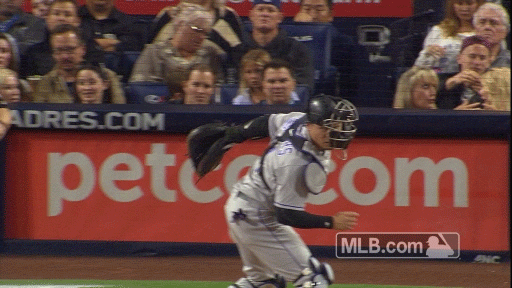 Aside from Wolters missing some time due to a concussion, he may have solidified more than just a split time position when Murphy comes back. So what does the club do going forward? The long and short of it is…nothing. Murphy comes back, is still the likely better option on offense, but lost some playing time due to Wolters having a hot bat to start the year. Special shout out to the Rockies depth at catcher with third and fourth stringers Ryan Hanigan and Dustin Garneau holding it down during this time.
Starting Pitcher, Jon Gray
If you would have said before the season that a month long injury to Jon Gray wouldn't cripple the rotation, I would have laughed in your face. But his replacement, German Marquez has been downright nasty since being plugged in. If you look into the numbers, your initial reaction will not wow you, but if you look a little deeper, that's where the impressive stats are.
Outside of two starts against the Nationals and Diamondbacks, Marquez has been all-star level good. He baffled the Cubs for eight shutout innings in Denver, threw six scoreless at Arizona, and then gave up one run to the Twins yesterday. What does this mean for Gray? Like Wolters above, Gray will resume number one starter duties, leaving the Rockies with the tough decision. Bud Black knows his staff and he knows pitching, it will likely end up being a decision between Kyle Freeland and Marquez. Tough decision, but I see Black keeping the lefty Freeland in favor of Marquez who could use just a little refining for consistency.
Shortstop, Trevor Story
This is where the injury issues get tricky. Before Story was put on the 10-day DL, he was hitting nearly 100 points below his average of a year ago. Nobody expected him to hit homeruns at the same pace as last season, but the expectation was there that he would cut down on his strikeouts. Story hasn't done that at all, actually striking out 43% of the time he records an at-bat. Couple that with only a .180 batting average, and all of sudden Story is looking like a flash in the pan from 2016.
PAT VALAIKA HIT THAT ONE IN THE FOUNTAINS! pic.twitter.com/fqt6NxAPoF

— Colorado Rockies (@Rockies) May 14, 2017
Enter Pat Valaika. Valaika has been a Rockies super utility player for 2017, forcing his way into the lineup with strong plate appearances and solid defense. That defense includes nine games at shortstop in place of Story while he has been on the DL. Bud Black is a smart man, and knows that nine games at short for Valaika is hardly enough of a sample size to know if he could handle the full load. It did however show Black that there is a group of players who can share the load if the team decides Story needs to stay on the farm for an extended amount of time. For the Rockies to improve further, Story's bat needs to be better, take the time now, early in the season to send him down to Double-A Hartford to fix the swing. 
Outfielder, David Dahl
The one on the list who has yet to make his season debut. Also the one who enters the biggest crowd on the team, the outfield. Once healthy Dahl will be fighting for time against Gerardo Parra, Charlie Blackmon, Carlos Gonzalez, and Ian Desmond. Though Dahl has yet to step on a field this season, he earned his spot last season, and through the first few weeks of spring training before the injury.
Charlie Blackmon gets a start-sit tonight. Parra in CF instead. This is a result of the Sheriff of Swattingham hitting like a Pujols robot.

— Nick Groke (@nickgroke) May 13, 2017
The cliché of having too much talent is a good problem to have, is now not a good problem. With this crowded outfield, if Dahl comes back and continues he's tear from last year, the Rockies need to trade Carlos Gonzalez. The Rockies need to start floating his name now, early on to gauge the market for him. Look at contenders who need a lefty bat on rental until the end of the season. Without a contract beyond this season, CarGo becomes instant trade bait, and is easily the biggest get for any team willing to make a deal. If the Rockies want to be serious contenders, they could fetch a big name starter to add to the rotation for veteran experience and depth. It's the tough move GM Jeff Bridich and ownership need to make.
One mantra that echoes across all sports is you can't lose your job to injury. This Colorado Rockies team may be able to bunk that myth across all four players on this list today. Every one of their backups or stop gaps has outperformed their expectations and the coaches. Colorado's depth is among the best in the league, and what they do going forward is going to be interesting to watch.